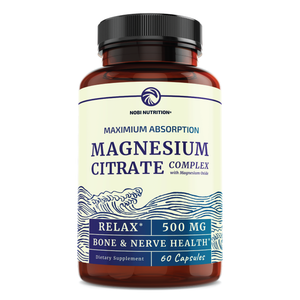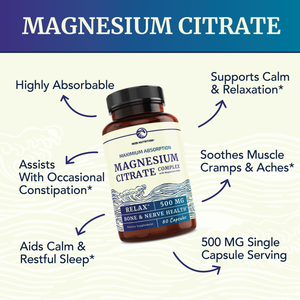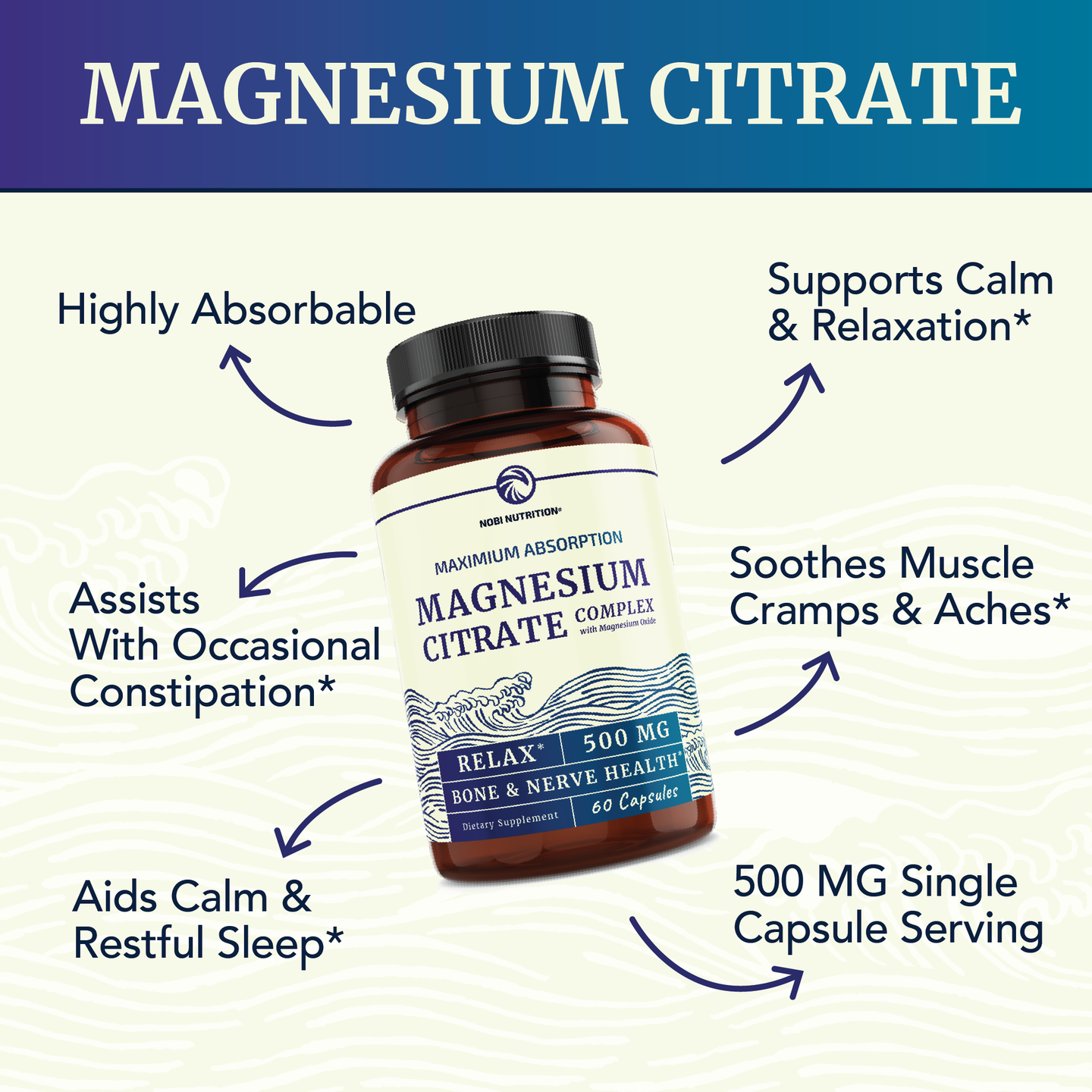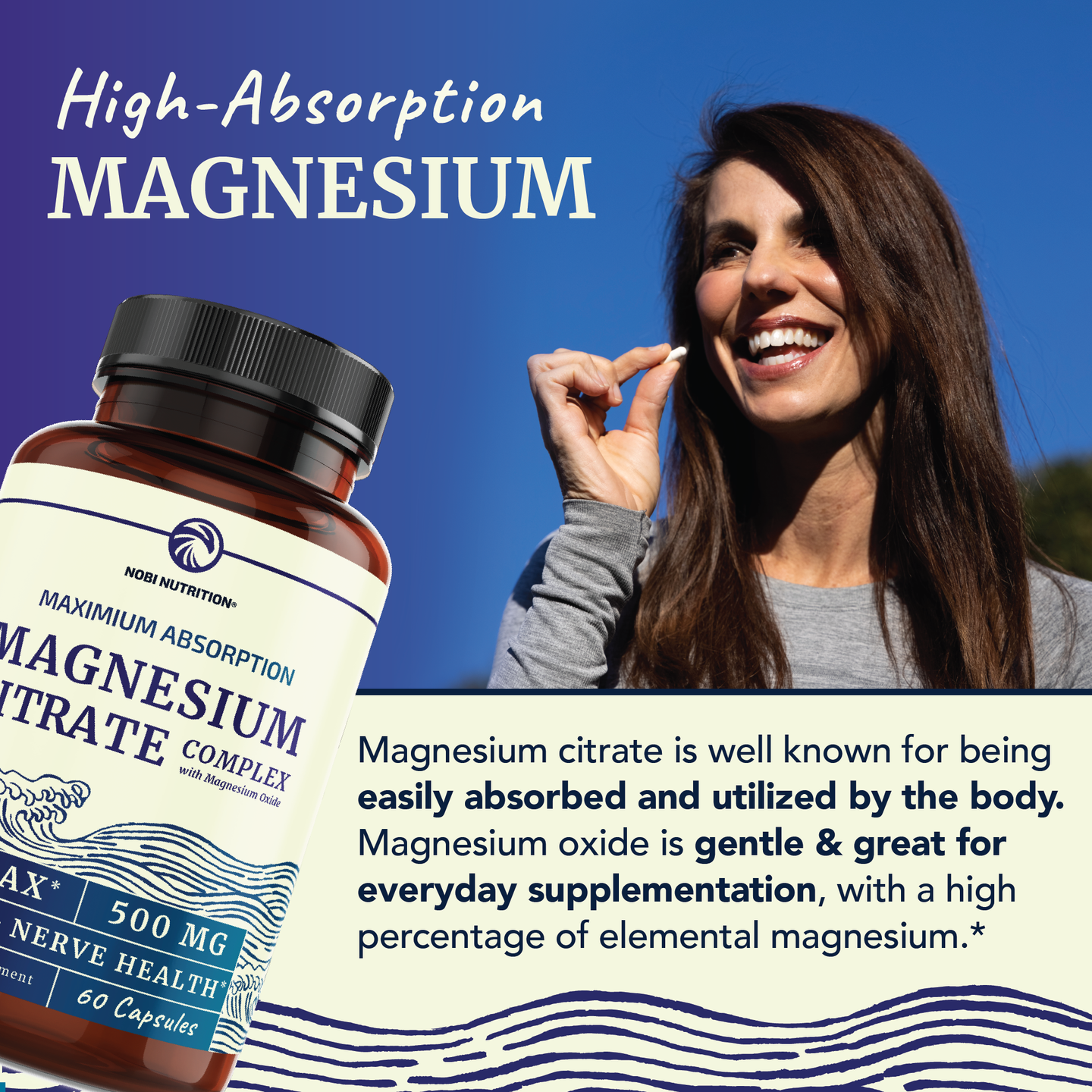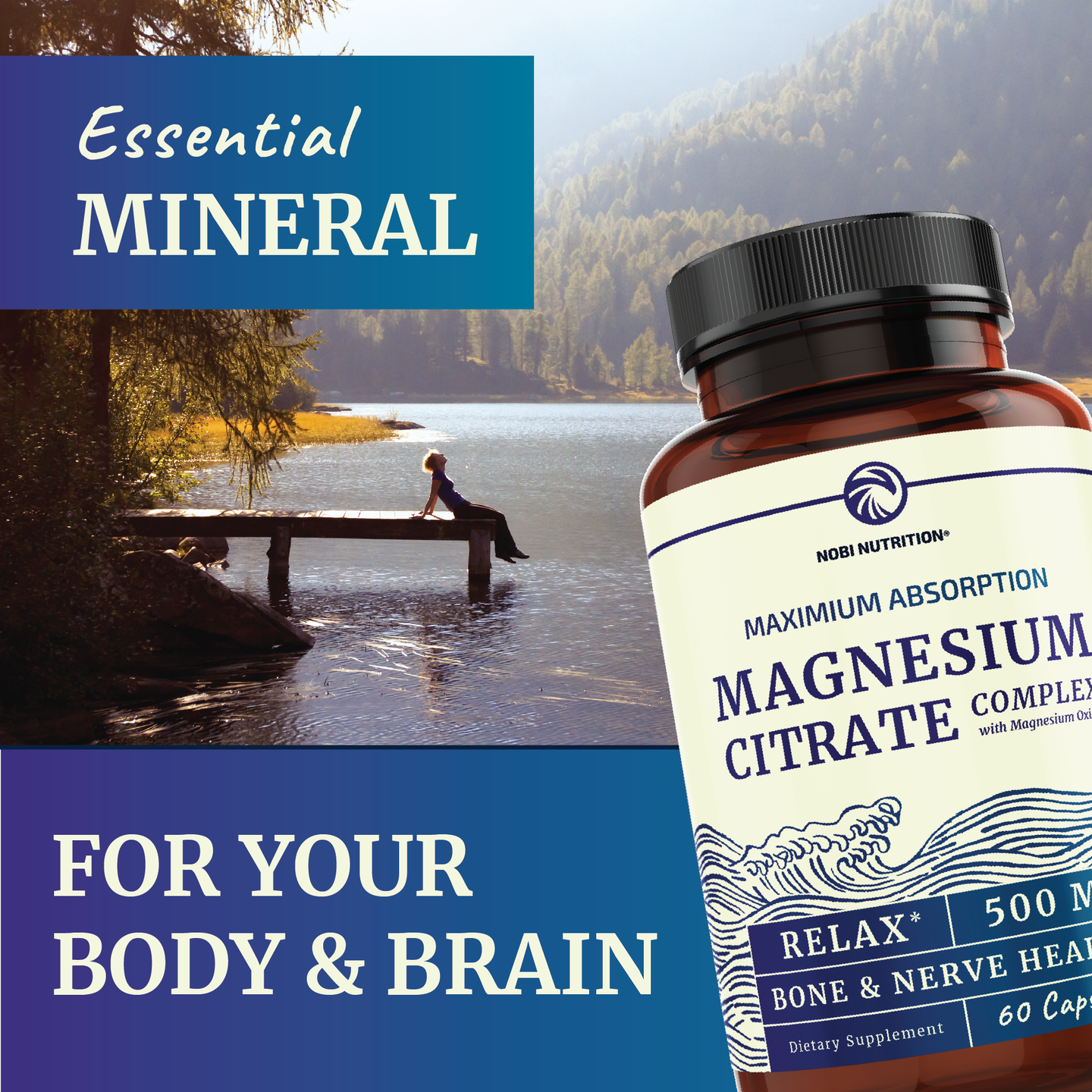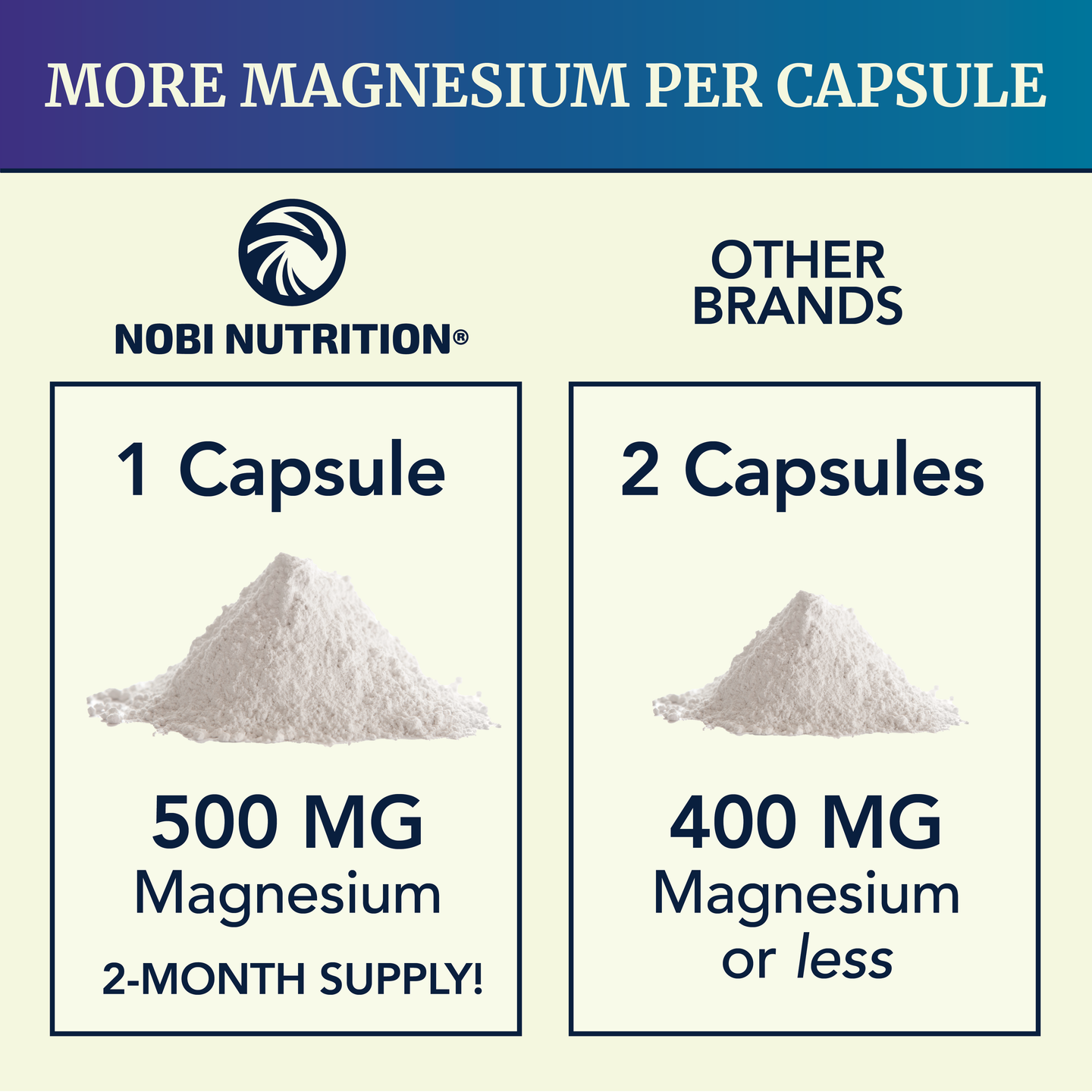 Magnesium Complex Capsules
HIGH POTENCY, PURE MAGNESIUM COMPLEX: NOBI NUTRITION delivers 500 mg Magnesium in a convenient, one vegetarian capsule, with no added preservatives or binders. Magnesium is an essential mineral. *

MUSCLE RELAXATION & RECOVERY: MELT AWAY TENSION & SLEEP BETTER: Muscle tightness, tingling or numbness in limbs, and muscular aches due to physical exertion are often a sign of low magnesium levels in the body. *

BONE DENSITY & STRENGTH: Magnesium is as important as calcium when it comes to bone health. Higher intakes of magnesium are associated with the better bone density of the hip and spine. *

HEART HEALTH, BLOOD SUGAR SUPPORT & MORE: In addition to relaxing muscles, Magnesium also relaxes blood vessels, which helps maintain healthy blood pressure and supports heart health. *

100% MONEY-BACK GUARANTEE- Nothing to lose! We are so confident that you will love our Premium Magnesium that we back it with a lifetime money-back guarantee, hassle-free.
Helps relax blood muscles, aiding healthy blood pressure †
Promotes bone health †
Aids in muscle recovery and relaxation †
First Class shipping is 4-6 days with a free 30-day money back guarantee.
COMPLETE MAGNESIUM COMPLEX
Magnesium is an essential mineral that keeps everything running smoothly, including your sleep schedule, your digestion, and so much more.
Helps aid healthy blood pressure †
Aids in muscle recovery and relaxation †
Supports smooth digestion †
Customer Reviews
Someone stole it from the mailbox
Someone stole it from the mailbox
Vince (Nobi Nutrition) Nov 3, 2022, 08:44 EDT Hi Linda, Can you send the pictures of the whit...
Vince (Nobi Nutrition)
Nov 3, 2022, 08:44 EDT
Hi Linda,

Can you send the pictures of the white envelope for my reference, Thank you in advance


Best,
Vince
Nobi Nutrition Support
---------- Original Message ----------
From: sun7706
To: [****]
Date: 11/03/2022 11:14 AM
Subject:
The Magnesium complex I use has been working for me. However, I reordered the product and I recieved this in a different container. I want to be sure this is Nobi so that i know what I am injesting. Has the packaging changed?
Finally, a good night's sleep!.
Magnesium was prescribed by my doctor to ease the pain and spasms I was experiencing throughout my body. Since I've been using this medicine for a few months now, my muscular cramps have been much reduced. In spite of the fact that I continue to suffer from them, the magnesium supplement has had a positive effect on my symptoms, which are less severe than they were before I began taking it. The only reason I gave it just a four-star rating is because the price tag is too much for someone on a limited income like myself.
Leg cramps are a thing of the past.
I've tried a variety of Magnesium supplements and have had mixed results. However, this is the first time that a supplement such as magnesium has had a significant impact on my well-being. It has made it simpler for me to fall asleep and relax, and there have been no side effects. Without a doubt, I'll place another order.